Leisure : MEKHONG COCKTAIL COMPETITION at Blue Elephant, London
โดย amthai event team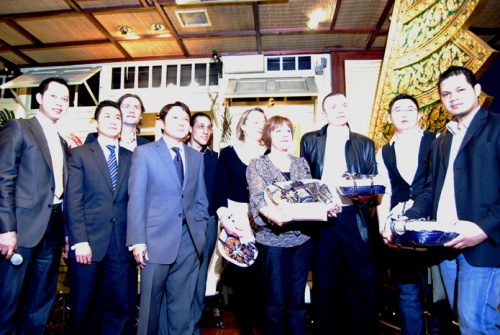 Above Picture: 5 finalists and VIP judges at the Blue Elephant London
Blue Elephant Thai restaurant in Fulham has teamed up with Mekhong , Thailand's Thai rum and Royal Orchid Holidays to offer Londoners the chance to win a holiday Package to Thailand.
 The event was hold at Blue Elephant on the afternoon of Friday 03 April, whereby 5 finalists have a chance to recreate their recipes in front of the panel.
   The panel: Khun Tanes, TAT Director of London is working on the winner selection.
 THE WINNER is receiving the return ticket to Thailand from WestEast Travel
 
PRIZE:

-  One Royal Orchid Holiday package to Thailand in a luxury 5 star hotel.
-  Complimentary one course cooking class at Blue Elephant Cooking School.
-  Complimentary dinner for two at the Blue Elephant in Bangkok. 
 The cocktails from 5 finalists
 Khun Banjongjit, the Director,  Khun Tu, the secretary  of Thai Trade Centre in London and Khun Tham, the organiser & GM of Blue Elephant, London
3 April 2009
VENUE:

Blue Elephant Restaurant
3-6 Fulham Broadway London SW6 1AA
Tel: 0207 385 6595
http://www.blueelephant.com/cocktailcompetition/index.html