Education : A Report from the Thai-Burmese Border: The Forgotten Karen Refugees of Burma (Myanmar)
โดย amthai
A Report from the Thai-Burmese Border: The Forgotten Karen Refugees of Burma (Myanmar)
Imagine a place in your mind that is warm, with long days of sunshine and tropical vegetation surrounding you. There is little or no cell phone reception. The dress code is casual; plastic sandals, t-shirts, shorts. What comes to mind? An ideal destination for your next beach vacation? A resort with palapa-like structures where cold iced drinks are sold? The place being described is neither on the beach nor in any type of resort: It is the Mae Hla Refugee Camp, about 120 kilometers from Mae Sot on the border of Thailand and Burma.
What makes this place so remarkable is that so few people have ever heard of it. Even those residing in Thailand either choose to ignore it or are legitimately unaware of its existence. Since 1948 and the creation of the state of Myanmar (formerly known as Burma) ethnic cleansing has been prevalent throughout the country, with several minority groups including the Kachin and Rohingya being affected. Yet it is the Karen who have been forced to flee their ancestral villages where they lived for centuries in peace as subsistence farmers. Over the past sixty years, the Burmese military killed, tortured and forced the Karen to leave their homes and livelihoods behind. Those who could survive the escape to freedom did so only to arrive in Thailand, where they were given placement in refugee camps along the Moei River, largely for their own protection from retaliation by the Burmese military. They came with no identification, no passport, no state issued ID. They are stateless. And today that problem translates into nearly 140,000 people who cannot be resettled and yet are unable to return to their farms and villages for fear of persecution by the Burmese military.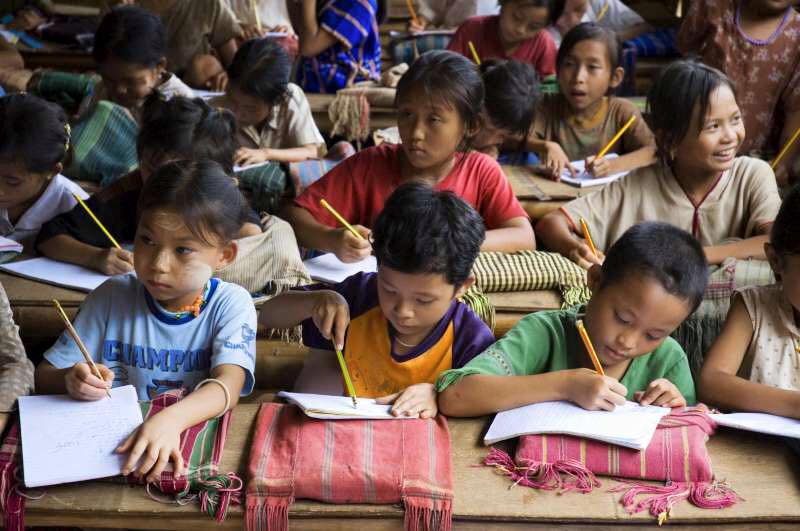 With the political tide turning now in Burma, and the overwhelming support for Aung San Suu Kyi and her party in the most recent elections, it is evident that the people want change. There is a desire to bring the minorities together to resolve their past grievances. However, there is also a fear that even with Suu Kyi attempting to pave a path to democracy that is inclusive to the different minority groups, the outcome will not immediately benefit the Karen. One only needs to look at the recent persecution of the Rohingya, a largely Muslim minority from the west, to see evidence of how the military's power over a minority group is carried out.
It is from the dire situation of refugee camp living that hope for some two hundred Karen children has sprung. The Noh Bo academy is a Christian mission school whose sole purpose is to provide Karen children a safe place to live and learn from a loving community of teachers and volunteers, regardless of whether they are from Mae Hla Refugee Camp, one of the neighboring Karen Thai villages or the Karen State in Burma. Since it was established in 1991 by the Parish Council of Christ Church in Bangkok, the school has been funded solely from donations made through Christ Church by generous donors worldwide. Their needs have never been greater. It takes only 72,000 GBP (roughly $100,000 USD) per year to fund the entire running of the academy. With the Noh Bo Academy preparing to accommodate more students than ever before, it is critical that the school raise the funds necessary to remain open: They offer boarding, meals, clothing and curriculum in subjects including English, math, science, computer science and Karen. But perhaps most importantly the school fosters a sense of community and hope among the young people who attend, regardless of their faith. In a location that is so striking for its natural beauty, it is hard to imagine that travel to and from the area is restricted by numerous military and police checkpoints. The Karen cannot leave unless they are fortunate enough to be resettled in places such as America, Canada, Australia or Europe. For the vast majority of them, the refugee camps and neighboring Karen villages will remain the only place where they are safe to live until they are repatriated. It is not a question of when, but rather, if that will ever occur. Looking across the group of students assembled at Noh Bo Academy one hot Saturday morning in late January, one can only hope it is during their lifetime that they are able to return home, and no longer feel the sadness of being the forgotten people of Burma.
Two ways you can help support the Karen refugees in Thailand:
Volunteer Teachers of English and Christian Studies: contact Crosslinks UK; www.crosslinks.org
Monetary Gifts from Overseas (International banks can transfer directly to this account):
Bank Account Name: Christ Church Refugee Account
Number: 001-006-59276
Bank: Standard Chartered Bank (Thai), 90 North Sathorn Road, Silom, Bangrak, Bangkok 10500 Thailand
Swiftcode: SCBLTHBX
For more information: karenministry@christchurchbangkok.org
Website: www.christchurchbangkok.org
Contributing author of this report, Catherine Clover, lives in Bangkok, Thailand, and is Asia Editor for Electrum Magazine. She can be reached for comment at catherine.clover@gmail.com.