Europe : Come Fly with Me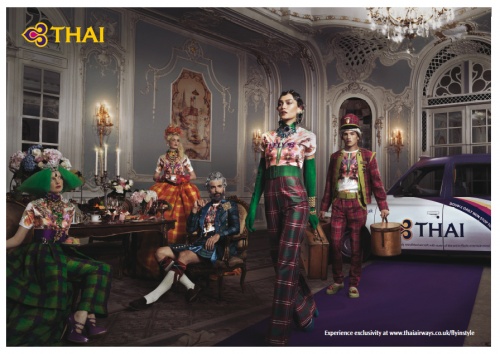 Come Fly with Me- Thai Airways
Thailand is one of the fastest growing fashion hot spots with several leading fashion shows hosted in Europe's favourite Asian holiday destination this year. London is already established as a leader in the fashion field and the traffic between the two is predicted to grow massively over the next 12 months and beyond.
THAI's new advert here has appeared in leading
fashion magazines and on posters during London Fashion Week (September 14-18, 2012) and on through autumn.

The leading model in the campaign is Ms. Florence Faivre, a Thai-French super model in both Thailand and the USA; and the 'butler' is young UK model Luke Worral. The picture was taken by renowned photographer, Perou at the Lancaster Ballroom in the Savoy.
Tel. +44 788 6514799
www.facebook.com/amthaipaper