Business Focus : Emerald Global Group เดินทางสบายไปกับ บริษัทเอเมอรัลด์ กรุ๊ป
โดย amthai team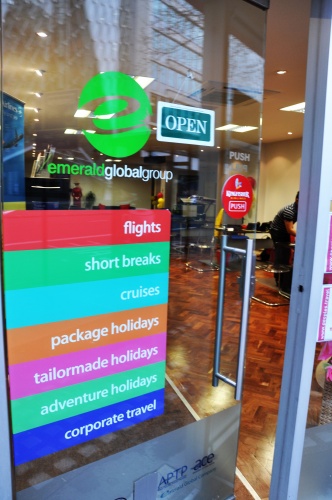 Amthai Travel: Emerald Global Group
เดินทางสบายไปกับ บริษัทเอเมอรัลด์ กรุ๊ป
The Emerald Global Group has been established for 35 years. They have a main base in the West End as well as premises in Regent Street and a walk-in store in Baker Street which covers a lot of destinations worldwide. They have a Thai section where Thai-speaking staff serve Thai customers', offering special fares when they want to return home to visit friends and family in Thailand. The company also has different divisions in order to serve customers from other countries. If people are travelling to Vietnam, Cambodia, Laos, Malaysia, Indonesia, Philippines, China or Japan, there are skilled staff who can assist in booking a holiday.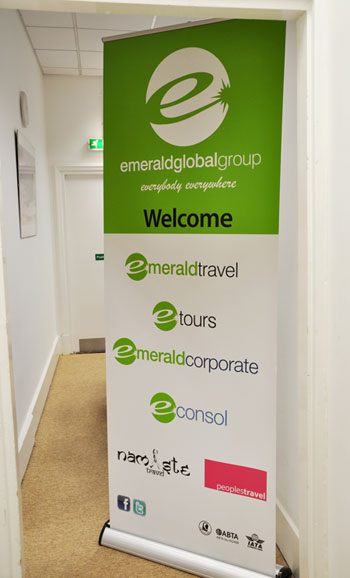 Under Emerald Global Group's umbrella, there are
Emerald Travel Ltd.
Bruce Taylor
Commercial Director, Emerald Travel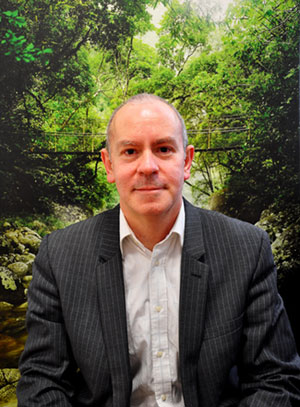 Amthai:  People come to Emerald Travel and get a reasonably priced ticket?
Bruce: Correct, Emerald travel is focused on community travel for people who have particular destinations. We have special fares to lots of destinations.
Amthai:   What is the best selling section?
Bruce: The busiest section is the Thai community. There are a lot of Thai people live in the UK and English who would like to go to Thailand.
Amthai:  Are more British people buying tickets now?
Bruce: All ranges of different things so people coming to us might just want the flights then we also add value to the trip. People are not looking for just community fares but particular fares. We have other areas which are a little bit different. We also handle with a cooperative business which is a small business. Because of the requirements, people may have to go to buy for important special group that might be travelling to Thailand or China or Indochina. We also handle cooperate customers as well within the e-tours brand. You can go to the website, www.etours.co.uk we have specific requirements holiday to send customers all over the world, whether to visit relatives or on exciting holidays to various destinations.
Amthai:  What is the different between eTours and Peoplestravel ?
Bruce: Peoplestravel is a store, a shop retails in-store so people can come at anytime they like without making an appointment. They just come in and talk to one of the staff whatever they want. The staff can arrange to support their requests.
Amthai:  Is it the internet based on tailor-made travel service which is offer services more than Emerald Travel which is sales focus on community fares?
 Bruce: Correct, Peoplestravel will cover any type of holidays, including destinations beyond Indochina or Thailand - basically worldwide destinations.
Amthai:  If people in the UK want to go to America or Europe can they contact you?
Bruce: Yes, we can do that. We've got a website: www.emerald.travel if someone wants a return flight you can go and check the flight and price on the website. If people want more arrangements like car hire and hotel or more arrangements, peoplestravel will handle that.  So they can go to shop, talk to some of them face to face about what are they planning to do and then we put it together according to their requests.
Emerald Travel: Thai section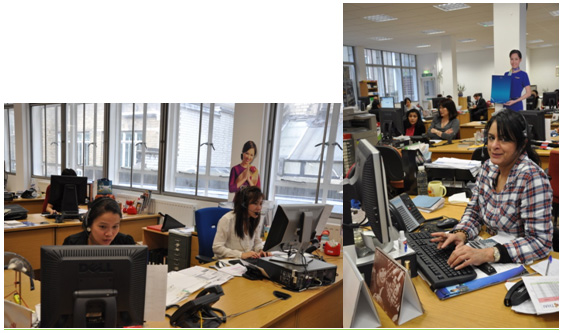 Travel Consultants-Thai Department Sales & Marketing
ลูกค้าของเรามีมาตลอด ส่วนใหญ่จะรู้จาก นสพ แอมไทย  เพราะเห็นจากโฆษณาปกหลังของหนังสือพิมพ์ ส่วนมากมีลูกค้าต่างจังหวัดก็เยอะด้วย และถ้าในลอนดอน ลูกค้าก็จะมาแวะที่ออฟฟิศเราบ้าง  ซึ่งเราสามารถให้บริการได้ถึงสองออฟฟิศ ใจกลางกรุงลอนดอน คือที่ รีเจนท์สตรีท และ เบเกอร์สตรีท ที่ไหนที่ลูกค้าเดินทางมาสะดวก ก็สามารถแวะเข้ามาได้ เพื่อมารับบริการหรือออกตั๋ว
แอมไทย : จะบอกอะไรกับลูกค้าบ้าง เพราะปีนี้จะมีการแข่งขันกีฬาโอลิมปิกที่ลอนดอน  อาจจะมีคนเดินทางมากขึ้น
อยากบอกลูกค้าทุกคนว่าถ้าจะเดินทางช่วงเดือนมิถุนายนให้รีบจอง  เพราะตอนนี้เรายังขายตั๋วไปกลับอยู่ที่ประมาณ 500 ปอนด์  เดือนหน้าก็อาจจะไม่มีแล้วเพราะ เมื่อใกล้เดือนมิถุนายนจะเป็นเดือนที่คนอยากจะมากันเยอะ 
แอมไทย : ถ้าลูกค้าจะออกนอกประเทศยังโอเคอยู่ไหม
ถ้าเป็นช่วงมิถุนายนพี่จะให้ลูกค้าที่รู้วันเดินทางที่แน่นอนให้รีบออกตั๋ว 
แอมไทย : ลูกค้าเป็นอย่างไรบ้าง
ส่วนมากลูกค้าก็โอเค  เขาพอใจกับการบินไทย ตอนนี้ทางเราก็พยายามแนะนำการบินไทยเพราะว่า  หนึ่งเขามีจอทีวีทุกที่นั่ง สองเขามีตั๋วแถมภายในประเทศ    และของอีวาแอร์ ที่เขาแถมน้ำหนัก ปกติเขาให้ 20 กิโล เดี๋ยวนี้แถมให้เป็น  30 กิโล
แอมไทย :เห็นมีบริการจองโรงแรมด้วย
มีค่ะ  มีลูกค้าต้องการจองโรงแรมห้าดาวที่กระบี่ กรุงเทพฯ หรือที่ไหนทางเราก็สามารถจัดให้ได้
แอมไทย : ฝากอะไรถึงคนไทย
ให้มาจองตั๋วกับเอเมอรัลด์เยอะ ๆ จะคิดราคาพิเศษค่ะ
เข้ามาเยี่ยมออฟฟิศของเราก็ได้ตั้งแต่วันจันทร์ถึงวันเสาร์  หรือถ้าโทรเบอร์ที่เห็นในหนังสือพิมพ์แอมไทยปกหลัง ก็จะเป็นเบอร์ตรงที่โทรเข้ามาแผนกไทยเลย
Travel Consultant- Thai Department
207 Regent Street London W1B 4ND
T: 0844 472 3177
etours
Amthai:   How about etours ?
Bruce: etours is very specific. There're particular destinations that we believe are very great and exciting. For example, at the moment Vietnam is very key focus for us. The Vietnam Airlines just launched a non-stop flight to Hanoi. So we can push in to confirmation.  That is why the etours brand is very specific and country-based. For example, we have a program for India; for people who want to travel to India and want to put an itinerary together, etours will help them to do that. Japan is the same so we put the holiday together which include travel insurance, transfer, hotel, day tours, etc.
Amthai:  Is this based on the internet only?
etours is not an actual live booking engine. It is a website that you can put in whatever you want so it tailor-made/ bespoke. We are pointing towards destinations that we believe are hot and exciting. Thailand is very strong. People always want to return to Thailand for holiday. It's very strong in the market. Royal Institutions between the queen of the United Kingdom and the king of Thailand is very strong connection. People who want to go to Thailand because they know it, trust it as a great place to visit, and get good food.  Obviously, there're lots of different things that people can do. They have cities, the mountains, there're a lot of activities that people can get involved. Visiting Thailand is a key for us as well. 
Amthai:  When people have a look at the information on the etours website and fill in what they need, then could they make inquiry by phone?
Bruce: Within Emerald Global Group, there are teams of people who are highly skilled so we know all about the destinations. There are phone numbers that customers can phone up, our teams and they have specialised knowledge to handle the customer requests. e-tours is a part of Emerald Global Ltd., but the target for e-tours is focused on specific destinations.
On the other hand, Peoplestravel is for anyone who want to go anywhere and we advise and make arrangement. Peoplestravel is like a traditional storefront, a traditional travel agency. People can walk in, and don't have to make appointment.
eConsol
eConsol have a website econsol.com which going to be renew with 2-3 weeks. We provide the most competitive airfares with over 50 airlines and are also an AirAsia appointed SkyAgent.
Emerald Corporate
The corporate businesses do regular trips, Emerald Corporate can handle that business for those clients. They have business plans and itineraries. Quite often the booking can change because of meeting requests. Basically, Emerald Corporate has specialized team of people to deal with corporate requirements. They have a corporate division where they sell the travel business arrangement.
Namste Travel
Jagnesh Shah
Director-Specialist Tours, Namaste Travel & Tours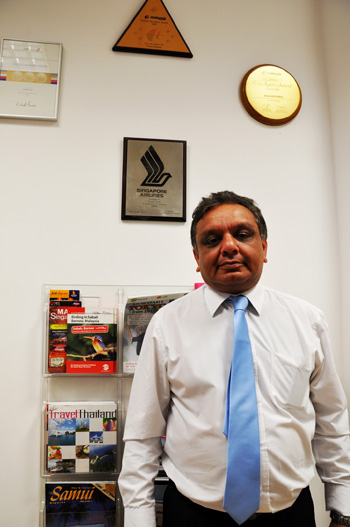 This company is unique. It is basically based on Asian born market. They want to travel like British born Asians. Their parents came here from other countries their children now are a second generation. These people want to go back to India, their parents went there all the time when they younger. When they grow up and do business they want to go somewhere else. They might want to travel to South America, Australia or New Zealand, China, or Japan. We put together a tour for special request for small groups. These specific groups fly together and have special requirements such as special meals - diet meals. This is targeting a very niche market.
Amthai:  How large of the market?
Bruce: Hugh, it's massive and still growing. There are a lots of second generation where their parents came to Britain when they were very young or born and go to school here. They are now British citizens. They like to travel with us. This small group tour is quite specific, they have very special requirement, specific reasons. They might want to visit places that they are interested, for example Budha trial.
There is, for example, a group of Thai community here. One have their own business and are British citizen. They might want to go back to Thailand and there may be the other time they want to go to America. This kind of thing we can put it together. Smaller group is a good market to look at.
For more information on any of our packages featured, please call 
Holidays reservations : +44 (0) 207 312 1742 
www.namastetravel.co.uk
Peoples Travel
Andy Kirk
Senior Travel Consultant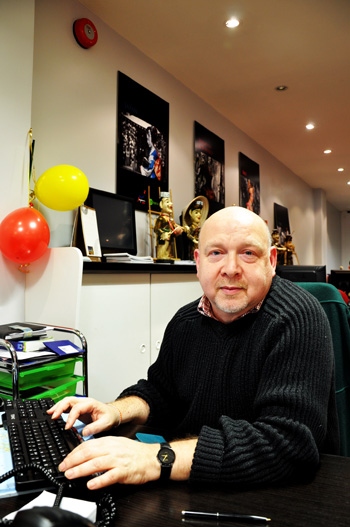 Peoples Travel offers lots of good holidays deals and competitive flights to destinations like the Far East, Dubai, Australia, China, Europe and many more. Peoples travel is a part of the Emerald Global Group, they have more than 35 years experience in the travel industry. Escape the cold with their winter sun holidays or long haul holidays to tropical regions like the Far East. They also offer travel extras such as travel insurance, car parking and car hire, etc.
Amthai : Tell us more about peopletravel.
Andy:  peoplestravel is part of Emerald Global Group. However, we're an ordinary high street travel agency. We sell everything from trains to Europe, Eurostar and flights all over the world.  We can make tailor-made holidays.
Amthai : Do you have offers?
Andy:  Yes, we have. For places in Asia such as Indochina, Cambodia, Vietnam and Laos, there is a new airline going directly from the UK called Vietnam Airlines. The return flight to Vietnam including tax is only 430 pounds
Amthai : How do you respond to the economic crisis in the UK?
Andy:  We look for new markets. The crisis has mainly affected the middle market. The top end of the market is still ok. People are looking for business class flights and 5 stars hotels as their income has not been affected. That high end of the market isn't badly affected at all and is actually increasing. Now, there are many new airlines doing business class. Vietnam Airline is based on business class which is 1400 compare to Thai Airways which is about 1700 pounds plus taxes. They have a middle class as well and like EVA Air which has Deluxe Premium class.  Vietnam Airlines is going to be a very popular airline of choice. A lot of people have been to Thailand, they are now wanting to do some other things. If they like Thailand they can go from Vietnam as well.
Amthai : Any message to the Thai community?
Andy:  Yes, we can arrange not only flights aboard but holidays in the UK, Devon, Cornwall, Eurostar to France even car hire if required. The price is competitive. Booking with us you will have very personal service.
Join our peoplestravel club now and be the first to find out about our special holiday offers and travel events.
peoplestravel
56 Baker Street London W1U 7BU
T: 0844 472 3416
www.peoples.travel