Leisure : BIRTHDAY WISHES TO KING OF THAILAND
โดย Everton FC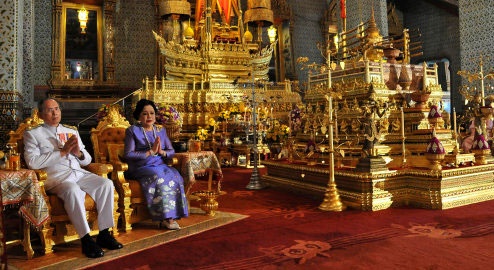 amthaipaper, Everton, Chang, Thai-British businesses and community in the UK would like to wish His Majesty King Bhumibol Adulyadej, the King of Thailand, great happiness for his 83rd Birthday Anniversary.

The King of Thailand's birthday is held with high esteem and is an important public holiday, celebrating the birthday of the world's longest reigning monarch.

The occasion is marked with an abundance of love and reverence by Thai people throughout the kingdom and around the world.

His Majesty King Bhumibol Adulyadej, or King Rama IX as he is also known, ascended the throne on 9 June 1946.

The King has won a special place in the hearts of Thai people through his devotion to the welfare and development of his people.

On 5 December, his birthday, buildings and homes all over the country are elaborately adorned with flags, portraits of His Majesty and bunting, predominantly in the color yellow.

Around the Grand Palace and Ratchadamnoen Avenue areas of Bangkok, thousands of vividly colored marigolds decorate the streets.

On the evening of the holiday itself, the streets around Ratchadamnoen and Sanam Luang are closed to traffic and thousands of people take to the streets.

Spectacular fireworks displays are held and the atmosphere is joyous and festive.