Event : See Siamese Carving at Amthai Festival, Wimbledon Park on Sun 29th Aug
โดย Kannika, Malcolm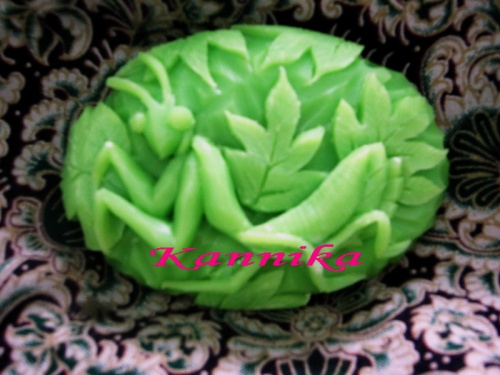 amthaiSiamese Carving
Seeing them at Amthai Festival 2010 at Wimbledon Park SW19 7HX on 29th August 2010
Often, differences of culture, religion, ethnicity, and gender keep people apart, but sometimes such differences can also bring people together, united in a shared interest; for example, music, the Arts, or travel. In this article we describe how the traditional Thai/Siamese skill of fruit, vegetable, and soap carving originated. We also note a creative collaboration in London, England, between an expert female Thai carver and a Western male (farang) who are developing their mutual interest in fine decorative carving . We will describe the selection of fruits, vegetables, and soap suitable for carving , and preparation and treatment.
The history of Thai/Siamese carving 
Thailand, the Land of Smiles, is famed the world over for the beauty and delicacy of its art and culture, which once experienced, make an unforgettable impression upon visitors. One skill that so delights them is the exquisite artistry of carved fruits and vegetables, an integral part of the presentation of Thai food.
Fruit and vegetable carving is a venerable and ancient Thai/Siamese tradition, and is considered one of the ten traditional Thai crafts. This ancient art is used in making food offerings to kings, monks, ordinations, weddings, royal funerals, and entertaining guests.
This craft was developed in Thailand (Siam) in the palaces of the kings since the Sukhothai Period over 700 years ago. At that time, it featured in the traditional celebration of the Floating Lantern Festival of Loi Krathong, at the full moon of the twelfth lunar month. The legendary originator of the festival, Lady Thao Sichu Lalak, decorated her floating lantern with a profusion of flowers, birds, swans, rabbits and many other animals carved from fruits and vegetables.
During the First Reign of the Bangkok Period, His Majesty King Rama I "the Great" held a fruit and vegetable carving competition at the Loi Krathong festival. Squashes were elaborately carved to serve as bowls for presenting sweet young rice to the monks, and the trays on which the bowls were placed were splendidly adorned with flowers of many sorts carved from papayas coloured with natural dyes.
Fruits and vegetable carving was thus an art of the royal palace, and it was the palace which in effect became the university for Thai ladies. Young ladies of good family would be sent to the ladies of the palace to be trained in the arts and skills of the royal ladies, and so carving developed as a traditional skill performed by ladies.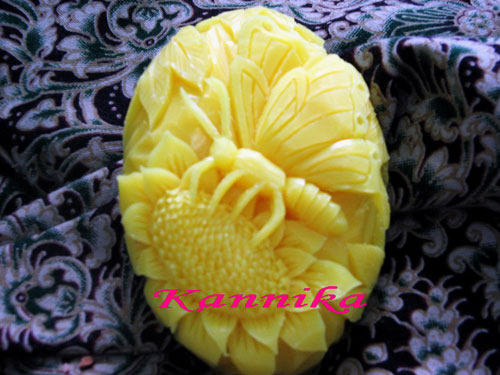 The purpose of fruit and vegetable carving now is to make food more attractive, more appetizing, and also easier to eat.  The accomplished homemaker welcomes her guests with fruit carefully prepared, seeded, and perhaps cut into bite-size slices depending on the type. Vegetables are first delicately carved, then often cooked, and finally arranged attractively to decorate the dish. Of course, guests are greatly pleased to be honoured with such a gracious welcome, displaying as it does the good feelings and willing hospitality of the maker.
Such decorative carving has now achieved widespread appeal in both Eastern and Western countries, and is practised by both females and males.
Decorating fresh, well-formed, and colourful fruits and vegetables through artistic carving is not particularly difficult, but it does require concentration, and like any skill, a great deal of practice is required to achieve a high level of expertise.
Kannika from Thailand and Malcolm from England
Kannika started carving when at secondary school in Bangkok, and subsequently as part of her College Diploma in Hotel Business, and then in her University Bachelor of Arts degree in Hotel Management and Hospitality. For the next 5 years Kannika worked at the 5 star Bangkok Marriott Hotel where her work included selection to be a fruit and vegetable carving demonstrator. She wanted to take her carving skills (and garland-making) to a higher level, and so in her spare time she studied with an expert Thai carving teacher. Kannika then moved to the 7 star Empire Hotel in Brunei for 4 years where she continued as a carving demonstrator, producing exotic carvings for many Brunei royal family events. This was followed by 1 year in Malaysia's top island hotel resort of Pangkor Laut, where again she was the principal carving demonstrator. Kannika's elegant, detailed, and exotic carvings (with practical demonstrations) delighted many famous persons, such as the King of Sweden, and Hollywood stars such as Keira Knightly. Kannika is now in London where she is applying her expertise to fine and delicate soap carvings. Every Sunday she goes to the Buddhapadipa Temple in Wimbledon, where she meets with Englishman, Malcolm, and together they develop their soap carving skill which requires a higher level of carving technique to achieve the necessary delicacy and detail.
Malcolm worked as an electronics engineer in the aviation industry (including working on the electronics development of Concorde). In his spare time, he had a great interest in designing and making jewellery. In addition to his lifelong interest in Nature and the environment, Malcolm has always been particularly drawn to Thai culture, its history, language, and traditions. His fascination with carving started when he admired the artistry of Thai fruit carving being demonstrated at a hotel in Thailand in 1981. Some years later, Malcolm began going to the Buddhapadipa Temple in Wimbledon where various traditional Thai skills and activities were (and still are) being taught. Malcolm took this opportunity to try his hand at Thai carving , and to challenge himself, as a Western farang, to develop his carving skill to the point where he could create beautiful results like Thai carvers can do with fruits and vegetables in Thailand. He has successfully achieved that, and is now further developing his skill with soap carving .
If you would like to see demonstrations of soap, fruit, and vegetable carving by Kannika and Malcolm, and others, please feel free to visit the Buddhapadipa Temple in Calonne Road in Wimbledon, London SW19 on a Sunday afternoon.
Or Seeing them at Amthai Festival 2010 at Wimbledon Park SW19 7HX on 29th August 2010