Event : Back due to popular demand…
โดย amthai event team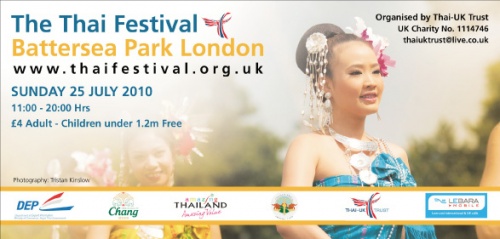 After a year's absence….The Thai Festival is back! The Thai Festival has been running for over 10 years; organised by the Thai-UK Trust it continues to be a celebration of culture and lifestyle to promote 'all things Thai'.
The Thai-UK Trust, which was registered as a UK charity in 2006 (Registration No: 1114746), is a non-profit, not sectarian and non-government trust, set up to relieve hardship in both Thailand and the UK. The head of the Trust is Pantipa Tirrell (Paleewong) a long standing member of the Thai-UK community and Co-Founder of Entbe Ltd (1976 – 2009).
Pantipa organised The Thai Festival in 2004 and 2008. Both were a massive success with record breaking attendances and donated money to both Thai and UK charities. In 2006, the trust organised a ball to celebrate the 60th anniversary of The King of Thailand's accession to the throne, raising money for the Chaipattana Foundation.
This year's Thai Festival expects to see many new faces along with our regulars!
The Thai Festival is taking place on Sunday 25th July 2010 at the British Genius Site, Battersea Park, London between 11am – 8pm. The entry fee is a modest £4 and is FREE for children under 1.2metres. 
This one-day spectacular will provide an exciting opportunity to learn more about Thailand and its culture. Thai restaurants will showcase traditional Thai dishes prepared on the spot by chefs from Thai restaurants nationwide. There will be plenty of Thai beer and Thai wine to help refresh your palette. Supermarket stalls will be supplying all the ingredients you need to take away and recreate dishes at home. Browse the Thai handicraft stands for shopping and creative demonstrations. There will be stunning performances of Thai national dance staged throughout the afternoon, creating an authentic Thai atmosphere.
A wonderful family day out The Thai Festival @ Battersea Park provides the perfect opportunity to experience a taste of Thailand in the heart of the capital.
For more info Email: thaiuktrust@live.co.uk  visit www: www.thaifestival.org.uk