News & Analysis : Government confident in ensuring situation under control
โดย Thai government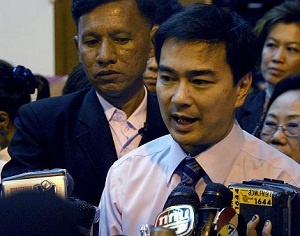 Prime Minister Abhisit Vejjajiva spoke to the press regarding the current political situation in Thailand, particularly in light of recent attempts by demonstrators to block roads in certain provinces.
On the latest attempt by supporters of the United Front for Democracy Against Dictatorship (UDD) to block a number of major transportation routes around the country, the Prime Minister noted that they were in response to protest leaders' allegation about an imminent crackdown of the demonstrators. He gave assurances that the Centre for the Resolution of Emergency Situation (CRES) is well prepared for such events and has taken necessary actions against these unlawful activities, especially the attempts by some demonstrators to stop and search vehicles illegally.
Prime Minister Abhisit further noted that, in addition to complaints by locals in the Ratchaprasong area about traffic problems, which are being addressed by the relevant authorities, the meeting of the Economic Ministers on 26 April agreed on guidelines for providing remedies to those affected by the prolonged demonstrations both at Ratchaprasong and the Phan Fah area. In sum, the remedies would consist of measures targeted at three main aspects, namely (1) assistance with liquidity problems that includes extended credits, tax exemption, and rescheduling of tax payments as well as other expenditures; (2) assistance for employees, starting with those who lost their jobs as a result of the demonstrations, whereby a survey will be conducted and those affected will be asked to register directly with the Ministry of Labour; and (3) assistance to small businesses, whereby a survey will be conducted to determine damages, such as rent paid to department stores, which will be used as a basis for financial remedies. As for other requests, the authorities concerned are in discussion on these with business owners.
Asked if the Government is confident in controlling the demonstrators' movements around the country, the Prime Minister stressed that everyone involved will step up their actions, adding that while the situation appears to be improving, all sides must persevere and be prepared. The Prime Minster also said, in response to a press query regarding the possibility of invoking the Emergency Decree in other provinces, that the Government is confident that it will be able to contain the situation with the cooperation of all concerned and without the need to leave it to any single authority – be it the military, the police, or the provincial authorities.
Asked about the announcement earlier by the CRES about the network of people trying to challenge the monarchy, the Prime Minister commented that the Government has two responsibilities, which are to inform the public of the existence of such a movement and to find those involved and take appropriate legal action.