Business Focus : Emerald Travel Ltd.
โดย Interview by Ramida Vijjitpn, Text by Ramon Chiratheep
Interview with Frank Bellairs, Marketing Development Manager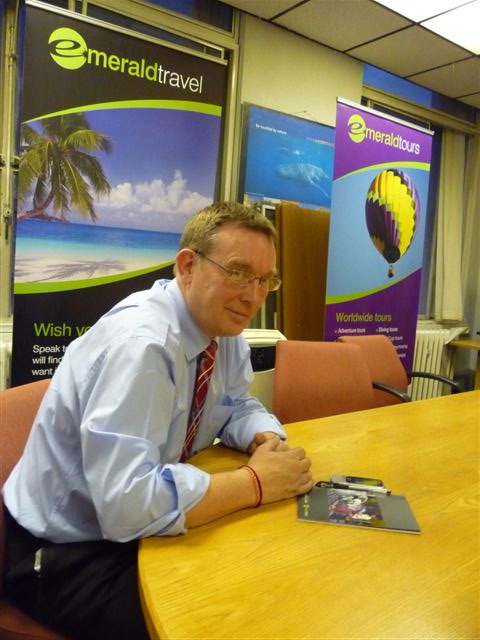 Established since 1970s, Emerald Travel Ltd. is one of the most well-known travel agents among Thai community in the UK.  
 
With over 35 years of industry experience, they have been able to send millions of satisfied customers all over the world, whether back home to visit relatives or on exciting holiday destinations. 
 
The Business Focus column would like to turn attention to Emerald Travel Ltd. about their past, present and future of success through the interview with Frank Bellairs, Marketing Development Manager.  
 
amthai: What countries did Emerald start selling tickets to at the beginning? 
 
Frank: We had arrangements with Malaysia Airlines for tickets to Malaysia and beyond, Singapore and beyond, and gradually, as the company became known for selling those things (in Southeast Asia tickets and tours), it expanded with more and more airlines. 
 
 
With unbeatable prices and efficient friendly staff, we offer hassle-free unrivalled travel
arrangements that really do get 'everybody, everywhere'. 
 
Frank: One of our strengths is that we look after what is known as the community market. We do have a very big reputation in the Malay, Singaporean and Thai markets. Japan is another area that we've grown into. We have, at the moment, Thailand, Malaysia, Singapore, China, Vietnam and Korea as destinations.  
 
 
 
amthai: Which one is the biggest one? 
 
Frank: Probably Thailand!   We started working with Thai Airways. Back in the 80s. It would've been in the 80s, but I can't give you a specific date. It's been going on since then. 
 
 
Thailand destination is one of the most popular target for their customers as they have a dedicated team of Thai agents selling the products.  
 
Frank: We have a dedicated team of Thai agents selling the products. Thailand is also the gateway to Asia, so we do get lots of enquiries from British markets, holidaymakers, etc. We have the reputation of being a solid and reliable company. We benefit from word-of-mouth referrals, airline suggestions and things like that. 
 
 
amthai: How many airlines do you sell tickets to Thailand from? 
 
Frank: There's 54 airlines that we sell tickets for, of which probably 30 of those will fly via Thailand in some shape or form. Quantas, BA, Thai, Eva, Singapore, Cathy, Malaysia, Korean, Asiana... Then you've got the middle-eastern airlines such as Qatar Airways, Emirates, Gulf Air... Other European airlines such as Lufthansa, KLM, and of course, Thai Airways. We're a big partner of Thai Airways, Eva Air, Malaysia Airlines, Cathay Pacific, Singapore Airlines, Quantas...  
 
 
amthai: Which airline is the most popular? 
 
Frank: Thai Airways by far. It's the biggest-selling airline to Thailand. We find that communities tend to fly their own products. Singaporeans like flying on Singapore Airlines. Malays like flying on Malaysia Airlines...National carrier. They're proud. They're proud of the identity, I suppose. The language, as well. 
 
Frank: Many years ago, when I started in tour operation, in producing holidays, we tried to make sure that the holiday destination was served by the national carrier. So we would say that the holiday starts from the moment you get on the aeroplane, and that's the way the community also looks at it.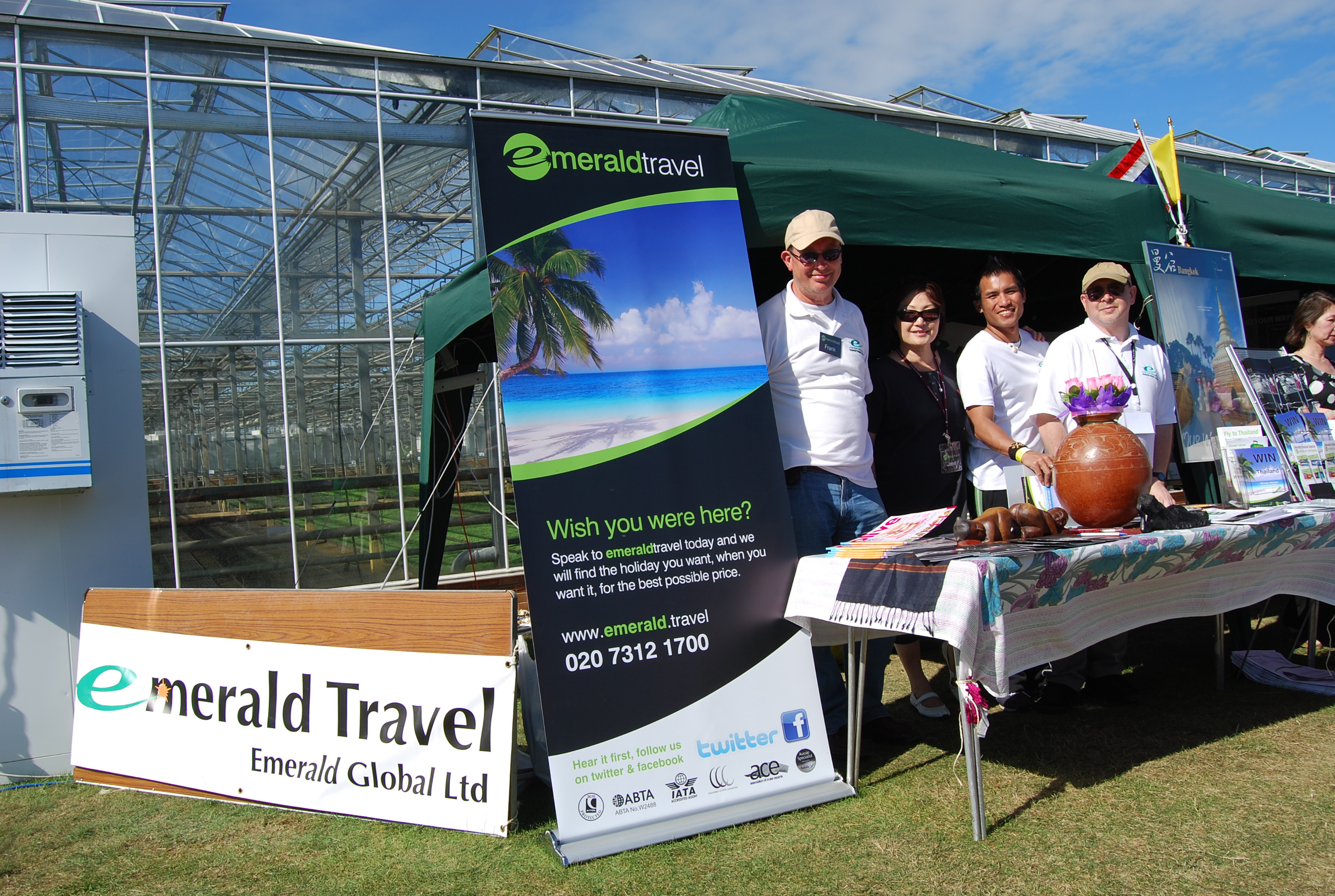 amthai: What makes you credible? 
 
Frank: We've got all the licenses, we're central – not many travel agents now have a central London location – we've been here a good number of years now. Our Baker Street office is new; it's been open for a good 14 months now.  
 
amthai: Why is your address so important? 
 
Frank: The key to having a London W1 address is prestigious, the fact that we've been here for 20+ years in this building shows stability, we are central for those airlines that are located near us.  We don't stop anyone coming through the doors. 
 
amthai: What's your responsibility in the workplace? 
 
Frank: I'm a company marketing manager. I look at the marketing of the community and the marketing of the programmes and the marketing of the airfares.  
 
amthai: What are your plans for the years to come? 
 
Frank: We are producing a series of brochures; tours for the British market. We have Thailand out, Malaysia is being printed at the moment... The competition of holidays in Thailand are so great; Thailand got an award from the Lonely Planet guide as one of the most attractive and affordable places to go in South-east Asia at the moment. 
 
People love Thailand. Very few come back and say that they didn't have a good time.  
 
For the family, Thailand is a fantastic country, and in terms of value for money, you can't beat it. Guaranteed sun most of the time, mystique, culture, and 12 hour flights from London.  
 
amthai: So you have packages for Thailand? 
 
Frank: We're a company that's flexible. If you want to do anything in Thailand, we can do it. We're very big on stopovers en route to Thailand. We have packages for all over Thailand. The northern parts, and the southern parts too. 
 
We're finding that long stays in Phuket are doing really well. People will spend a month in Phuket. We've got good offers on bonus nights with the hotels too. It depends on what hotel, but for example, we have a three star and three beds for £15 per person a night. 
 
We work a lot with the agents over in Bangkok so we often get special day trip offers. We can put packages together specifically for them as well.  Because we are very close to Thailand due to our relationship with TAT, our relationship with Thai Airways... We work very closely as a partner with Thai Airways.  
 
With Eva Air, who are starting daily flights from 25th January, we do a lot with as well. We have the stock, we can supply, and we can satisfy what anybody wants. People are demanding more now, and we're able to cope with the demand. We will be marketing different ways to get to Thailand next year.  
 
We strive to get our customers the best fare, each and every time they call and many of our existing customers continue to be impressed by our unmatchable low fares. 
 
amthai: What percentage of your customers are Thai, and what percentage are foreign? 
 
Frank: I can only speak about Emerald. At least 55% of our customers are Thai. Despite all the political turbulence, people still want to go home.  
 
 
 
Products and Destinations: Australia , China, Sri Lanka, India, Japan (Direct), Package Tours, Japan (Via), Korea, Malaysia, Thailand, Dubai, United States, Vietnam,  
 
 
 
Emerald Global Limited 
 
15/16 New Burlington Street, London W1S 3BJ
Tel: 020 7312 1733, 020 7312 1713