Business Focus : New Loon Moon Supermarket in London China Town
โดย Interview by Ramida Vijitphan, Text by Ramon Chiratheep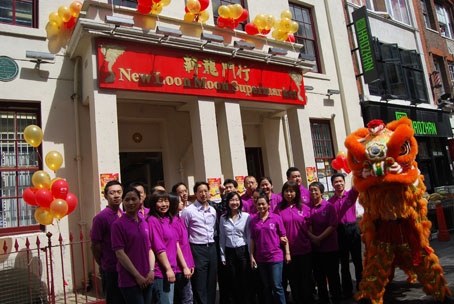 After 15 years in Business, today New Loon Moon Supermarket has been officially opened their first floor upstairs and expanding about 30% of the floor space in the shop on 14th Jun.  This building was originally built in 1858 and now has been renovated to serve the customers in 2009. Andre Chueng is the business owner who started up this business at the beginning. Today, amthaipaper has an opportunity to get information about New Loon Moon Supermarket with Mr. Andre Cheong, the Managing Director of New Loon Moon Supermarket explaining how they have been doing in business in the past years.
Amthai: What does "Loon Moon" mean?  Something about the moon?
Andre: Indeed(!) No, "Loon" means "dragon", so that's why we have two dragons [in the logo]. And then "Moon" means "door", or "gateway" in Cantonese. There are two bars across, with two posts coming down – the gate. It's a fairytale!
What the fairytale says in essence is that if you – the dragon being one of the most powerful creatures in the Chinese zodiac – if you are a little fish, swimming up the river (hard work, yes), your destination is the dragon's gate. If you are able to swim up your river, work hard, you will get to the dragon's gate. And if you are able to swim through it and get through the gate, you will come out the other side of the dragon.
Amthai: Before, what are you then? A human?
Andre: Yes.
Amthai: Who created the name, then?
Andre: I designed the logo a long time ago, but the name? I don't know how it came about.
Amthai: What kind of products will you be stocking there on the new opened 1st floor?
Andre: We're transferring Japanese, Chinese and Korean products to our first floor, and then downstairs, we will expand the Thai, Filipino and frozen range.
Most of the Chinese items that were here and across here were actually transferred upstairs, and that will give us more room for the Thai and Malaysian product range. After that, we will increase our [free protection? Food production?] and frozen... We can now carry bigger lines.
Amthai: So, now you're having the whole building?
Andre: Yes. We took over the whole building late last year, and then, because I was away in Thailand for the past three years, I came back in order to do the renovation. Basically, we're a family company, and this is my baby. I look after this one. We started here 15 years ago with only two people.
Amthai: With your parents?
Andre: No. My parents took over the lease, and then they said, "OK. Here you go. Run a supermarket!" I thought to myself, "Hmm. Interesting..." I think I was 24 at the time. Very young!
Amthai: What countries do you import the most products from? What's the majority?
Andre: Mainly our focus is on Southeast Asian people. It's not just the Chinese; we have Filipino, Malaysian, Thai, Singaporean, Indonesian, Korean, Japanese.  So, basically, unlike some of the other supermarkets here in Chinatown. They say they're supermarkets, but really, they're Chinese supermarkets, whereas if you come to New Loon Moon, it's more general – it's every oriental brand you want to find.
Amthai: So you want New Loon Moon to be a one-stop shop...?
Andre: We'd like everyone to come here and find not just the bestselling products, but the entire range. For example, for Japanese stuff, you don't just want to find wasabi, but you want to find all the different soy sauces, Japanese sauce, dressings, salad dressings, etc. It's the same for Thai food. You don't want to find just red and green curry. Here, we have Chu Chee (ฉูฉี...)
Amthai: You have Chu Chee (ฉูฉี่)?
Andre: Yes, we have Chu Chee!   I like Chu Chee. Chu Chee's good! We have everything; cake mixes, dessert mixes, flavourings, sauces...
Amthai: They can try it?
Andre: Yes, exactly! They've been on holiday, they've tasted it, now they want to come here and try it themselves at home. Some customers start off with the easy, ready-made sauces, and then after that, think, "OK. Let's get the raw ingredients..." For example, the basil. They want to buy it fresh instead of just buying it in a ready-made packet... Stuff like that.
Amthai: Are you planning on having cooking classes? What are your plans?
Andre: We have a kitchen for all our staff, but not in the future. We're concentrating mainly on this floor, but we don't have any plans to expand, because we'll be 15 years old in November. If we wanted to expand, we would've done it a while back. But, basically, we won't expand from here for two reasons. One, the warehouse services most of the UK and Northern Ireland, so if we open up one supermarket, for example, in Manchester, we have maybe ten to twelve customers in Manchester that we will hurt. So, it is not our plan to open up any branches within the country.
We use this supermarket for one, as a testing ground for new products and new ideas, and to see the market influence – how the trends are going, what customers are coming and going, choosing... The unique point of Chinatown is that it's not just Chinatown, but every nationality here. Plus, we get tourists from Europe, tourists from other countries, so you can actually gage very well what the Europeans like, vs. the Chinese, vs. the Southeast Asians, vs. the Filipinos... So, it allows us to get a lot of market information.
Amthai: How many Thai people do you think come here approximately every day? How many percent of your customers are Thai?
Andre: I'd say you would be talking maybe 30% – 40%. The reason being is that recently, over the past few years, it has been very popular for Thai students to come to the UK to do a one year MSc or MBA.
Amthai: Do you know how they know you?
Andre: Did you know that the best way is word-of-mouth? Our supermarket here has always been very strong with the students; we carry a lot of noodles – probably the widest range.
Amthai: Instant noodles?
Andre: Yes! Even I lived on instant noodles as a student. When you grow up, you think, "how did I do that?"
Amthai: Exactly! My friends told me that if I wanted to buy something, I should go to Chinatown and visit New Loon Moon...
Andre: When we first started, we used to do a lot of advertising. When we took over this supermarket, it was a failing supermarket. It had gone bankrupt, the product range was absolutely dire, and the owners had – although it was the first supermarket in the street before it ever became Chinatown, and it had been going for 25 years – they'd gambled it all away, basically.
And so, when we came here, we were in a very bad position, with regards to the name; what people thought of the supermarket. We were also in a bad position in that we were new... I was very young...
Amthai: You changed the name?
Andre: No! We kept the name. We just put the "New" at the front. Before, it was "Loon Moon Supermarket Limited". We kept the "Loon Moon"
At the grand opening of the new first floor day, we could see Cheong family such as Mr Neil, Mrs Esther, Mr Andre, and Dr Michael as a host welcoming guests. At 11 am. sharp, all guests and visitors could see Golden Dragon Dance Show,  and Mrs Esther cut the ribbon during a grand-opening ceremony for New Loon Moon's new 1st floor opening.
Amthai spotted Mr Neil smiling and welcoming people, we then took a chance to interview him.
Amthai: How do you feel about today, about 15 years in business?
Neil: I feel very excited. The expansion is what Andre wanted for a long time. Andre has worked very hard.
Amthai: Are you proud of him?
Neil: Yes, very proud.
Amthai: What was your guidance to him?
Neil: My guidance to him was, at any time, whatever your ideas are, make them into reality. Also, if there's any mistakes you think you've made, correct them immediately. Do not allow them to continue, and make the changes necessary to make the business very vibrant.
People talk about New Loon Moon even in other countries. People come here from Thailand, and they already know, which is good. I also remember meeting a lady from California who said she wished there was a shop like New Loon Moon in America.
Amthai: Would you like to expand in other countries?
Neil: First, we have to look at expanding New Loon Moon in other parts of the UK. We have looked at this sometime before, but the rent was enormous.
Amthai: Can you give a message for our readers about the shop and welcome them here?
Neil: This has been one of the aims of New Loon Moon from the beginning... To welcome everyone. We ensure that you can speak English, Thai, Cantonese and Mandarin.
Amthai: You have staff who can speak these languages?
Neil: Yes, it's very important. Something that is lacking very much. This is what has brought New Loon Moon to its' present level. We are able to look after the customers individually. Some come in with a list, and they don't know, but they just come and ask. This is very very very important to the community.
New Loon Moon sells an array of Oriental food and grocery items; they also have all range of Thai products imported freshly, directly and weekly from Thailand with reasonable good prices. 
New Loon Moon,
9 Gerrard Street, London W1D 5PL, 020 7734 3887
- Oriental (& Thai) Supermarket near Leicester Square Tube Station
 Other business focus